This week's folklore topic is Trees and Forests. As ever, the strip was prompted John Reppion's tweet length story:
In 1990 work on the Limerick to Galway motorway halted. A lone tree stood in its way. The Hawthorne, according to tradition, belonged to the Sidhe (Ireland's Fairies). Disturbing such sites is forbidden. A curve was added. The road snaking around the Thorn Tree. #folklorethursday
My original plan on this was to do a moody Frank Miller piece, stark black and white and a dash of red. At least that was my plan until I read John's tweet (quick backroom secret: we know both the topic's in advance, and John sends me his tweet in advance).
The moment I read the tweet, I KNEW I was gonna go Arthur Rackham on it.
Arthur Rackham (b.1897-d.1939) was a British book illustrator who did a wonderful line in fairies and trees. He'd often morph the shapes of trees into beautifully gnarled figures too. Fantastic artist, I fell in love with when I first saw his work in my late teens – my dad was/is a collector of antiques/ephemera, and had got hold of an Arthur Rackham illustrated edition of Wagner's Ring Cycle, no internet in those days, so seeing that, and finding books about him, was the only way to find out anything. Nowdays a quick google search will turn up hundreds of drawings. Kids, eh? dunno they're born.
Felt fairly confident we'd see a large tree right in the centre of the page. So I started from there. Decided to go with a couple of construction guys on panel one, and the idea that the fairies where playing havoc with the traffic cones suggested itself.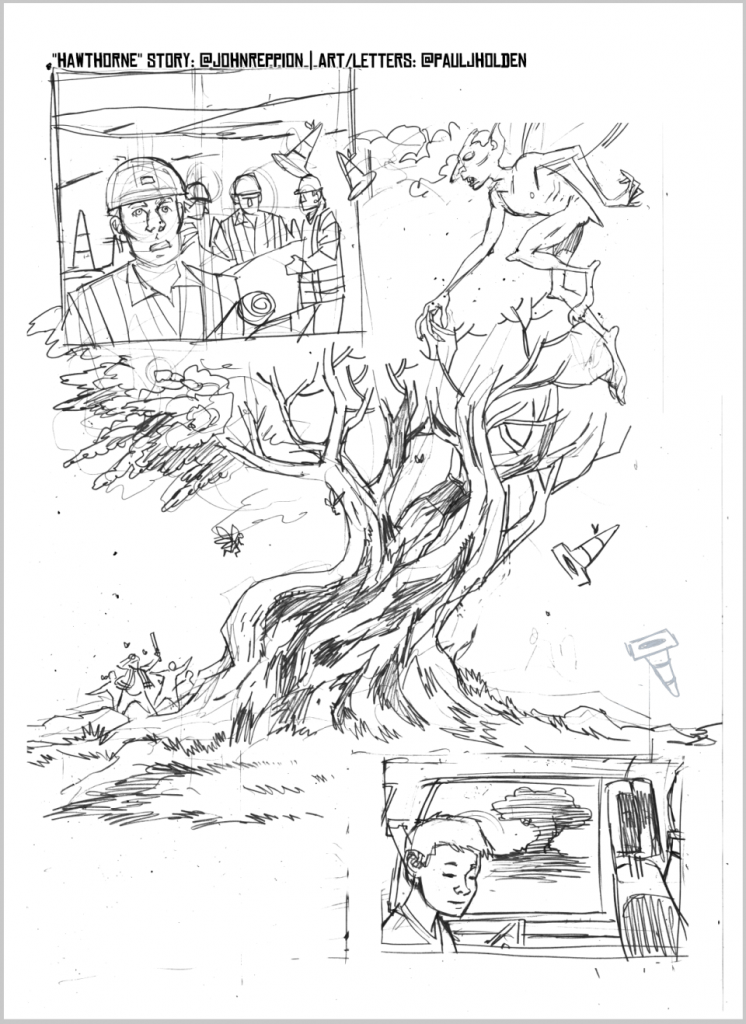 Next step after pencils is inking…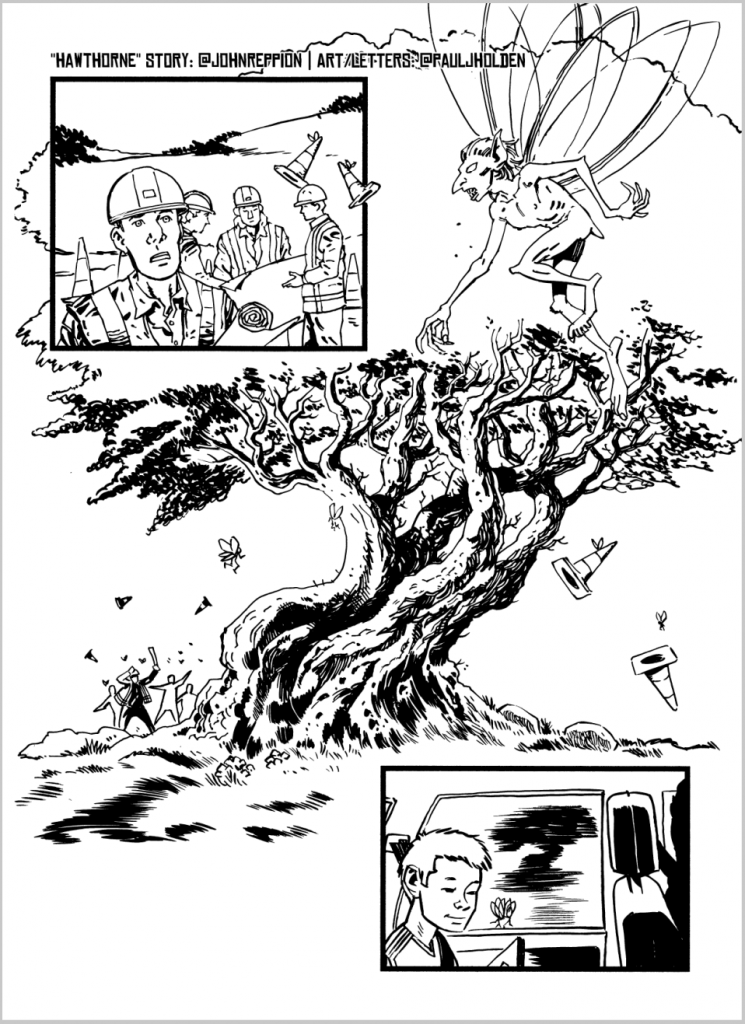 I'd toyed with the idea of drawing a map, to show the road snaking around the tree, but it really was a struggle to make that seem interesting, thought it would be more fun to draw a car driving past the tree, with the passenger completely oblivious to the wonders around them (like everyone with kids, you know they're sitting in the back on their ipads no matter how loudly you shout "LOOK! MOO MOO!" as you pass a cow)
I left a big gap beside car panel, because it felt like it balanced out the composition. I knew I'd put some text there (and I was still toying with a map)
Colouring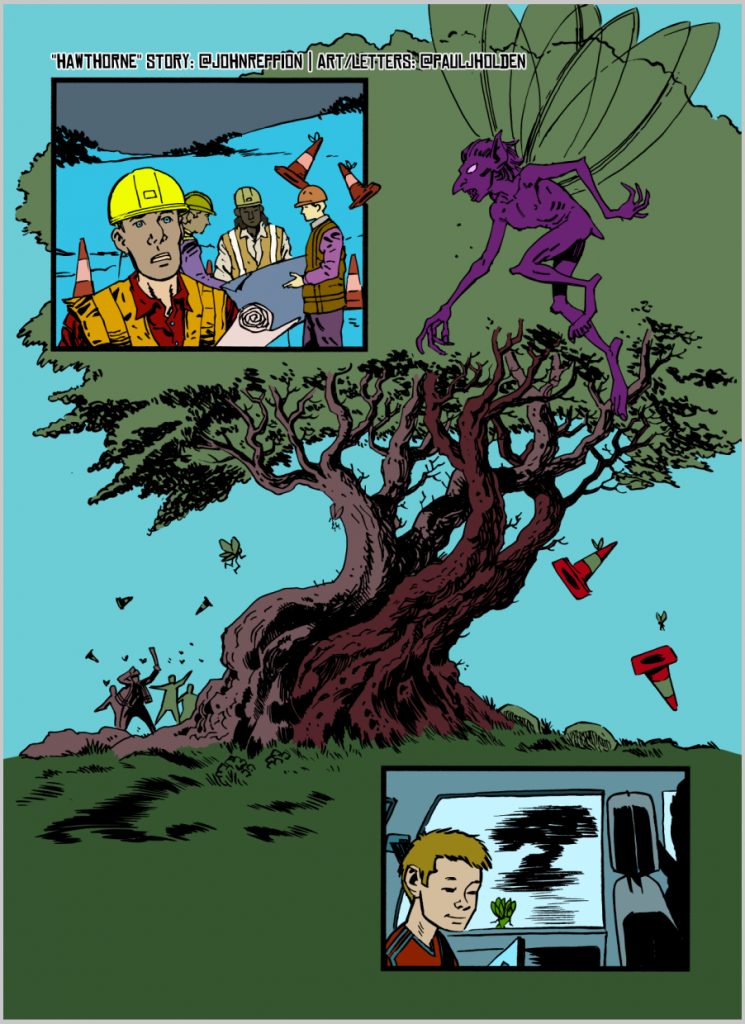 Colouring begins with flatting a page. Basically you add a simple flat colour to all the individual elements of a page – these colours won't generally be final, in fact sometimes you're better colouring them with entirely random colours. You'll use the magic wand tool in clip studio or photoshop to pick up the groups – so, for example, I could select JUST the colour bands of the traffic cones by using the magic wand tool.
At this point I was still thinking of colouring this page as naturally as possibly, but two thinks struck me: firstly, I DID want to do something different with this one, three pages is a pattern and I didn't particularly want to do patterns and secondly, it just felt like any colour would detract from the big tree. So I decided to make the inset panels pure black and white. Which was a little too stark, so I moved them to greyscale. And I quite like the look.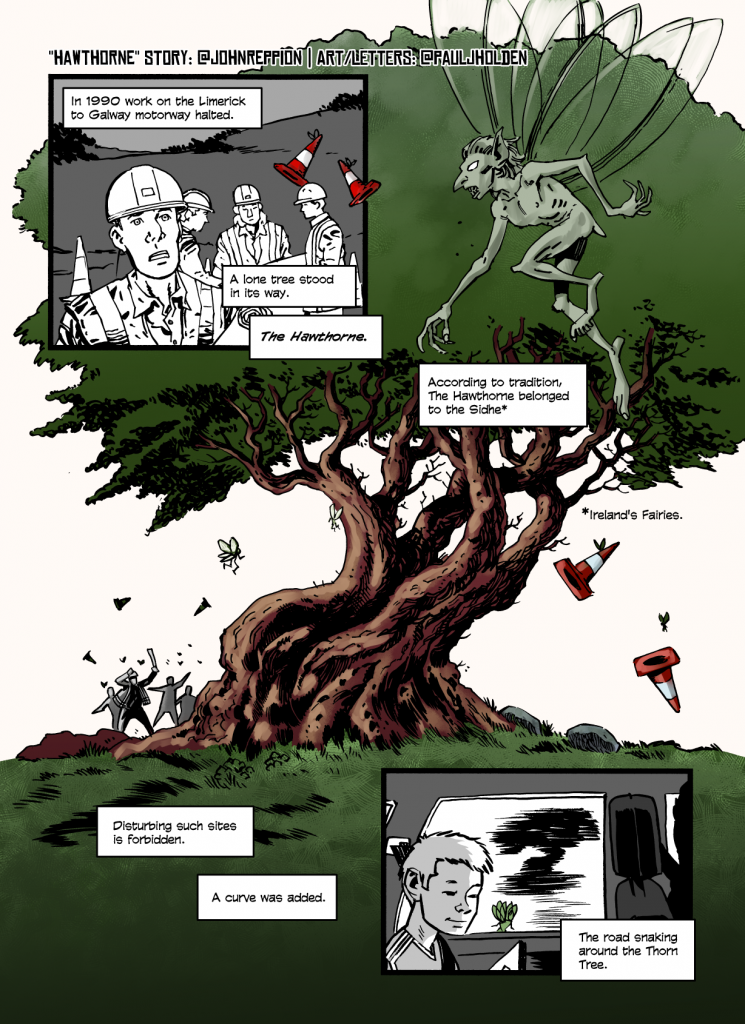 This is the first time I've messed around with the lettering, but introducing the repetition of The Hawthorne seemed like a more natural way to read the text. (When I'm placing the dialogue I'm reading it aloud, I've done some acting so I think I've a solid ear for how dialogue can be heard).
If you're interested, you can read more about the tree here.
One final thing, the original black and white pages are drawn at A4, pencilled on one side, inked on the other and they're available for sale. You can contact me directly if you're interested.