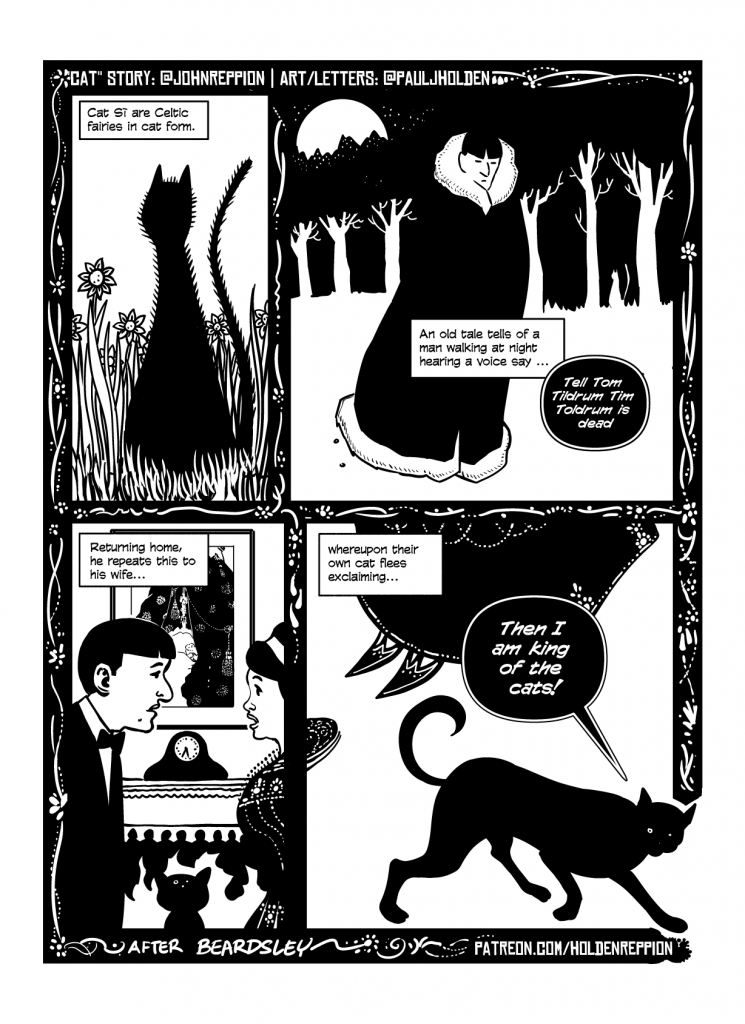 "John, look, I think we need to get engagement on twitter up. The internet loves cats, so whatever the NEXT folklore tale is about — I'm drawing cats"
And thus, John sent me this:
Cat Sí are Celtic fairies in cat form. An old tale tells of a man walking at night hearing a voice say "Tell Tom Tildrum Tim Toldrum is dead". Returning home, he repeats this to his wife, whereupon their own cat exclaims "Then I am king of the cats!" and flees. #FolkloreThursday
I'll be honest, no matter what John sent, I was drawing cats. I've got to find ways to amuse myself.
Anyway, Not only was I thinking cats, I was thinkig Aubrey Beardsley
And here we are. Usually ideas like this are about making sure I'm trying new things, if I can constrain myself in some way (esp if it's a thing I never normally do) the thinking goes (well mine does) this might spur me into new stuff.
Beardsley, though, frustratingly, doesn't seem to have drawn many cats. (No great surprise, he was a startlingly young 25 when he died) and so I was stuck with how to draw a Beardsley cat. Panel one cat was drawn on the basis that he tended to draw very wide bottomed figures, art noveauesque shapes. So I cobbled a silhouette around that. The spikes I added much later when the whole page was finished, partly because Beardsley did sometimes add fringes on to black areas, and partly because I wanted it to have some sort of air of the supernatural or – mostly – to differentiate it from the cat on the last panel. As it happens, the spikes I added made it look like Mog from Meg and Mog and that amused me, so in it stayed.
Panel 2, it's Beardsley himself. A young man, never married so this is, clearly a fictionalised version of him. Beardsley's work seems to have large black shapes (often fringed with white dots or black) and large clear white space. So it's trying to figure out how to balance that all. Very pleased with the lettering balloon – done in Clip Studio, which is not a brilliant tool for lettering, but this was an easy effect to make (black on white balloon, white text, then the entire layer is given a black outline)
Panel 3, Beardsley and wife – just made her up. The picture behind them is "self portrait in bed" by Bearsley
Panel 4, finally our cat walks out – this is a Beardsley cat – taken from Pierrot and cat, from St. Paul's – I've had to add a couple of legs as the original is behind another figure.
And the decorative around the frame element was important, but I felt I needed to get the thick black border for the full on Beardsley effect.
Hope you like it! One more to go before we call this year done, the next will be the last for the year, and it'll be very wintery…