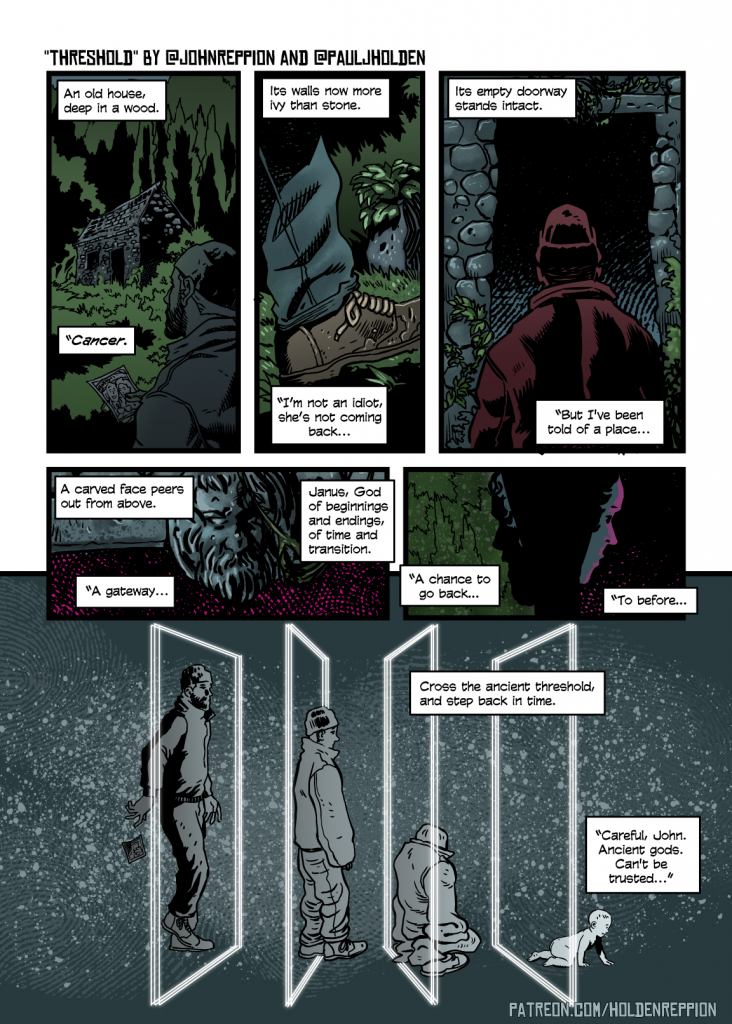 Crank up the manifest, hoist the gibbert, weigh up the anchorage. We're back!
Having tried to push myself to do a little bit of writing over Christmas (you can see the results at my blog pauljholden.com) I thought I'd approach this first Folklore Thursday of the new year with an eye to creating some sort of story (and I mean more than just the surface thing). I started laying out the pencils to the tweet and found that, well, all I was really doing was illustrating John's words. Not actually adding anything of significance. So I thought I'd add a character – that at least gave me a little agency.
Having adding something like a protaganist, I figured the easiest thing to do with those words was make him get younger – so he's stepping back in time, but ONLY in his own lifetime. Then I thought – I don't think that's what John meant, but I liked the fact there was room to decide that's what it could be. So then I added a little impetus to our character, maybe he's finding this place and wants to travel back in time but he's been tricked.
That decided, I started seeing what I needed to add to the art to sell that little narrative. I added a loved one in panel one (thus fulfilling something I've always wanted to do which is to draw a doomed romance comic) and then panel two I was going to have him drop a note detailing the cancer diagnosis of his wife. But then I wondered if I couldn't add a second narrators voice, a conversation he was having. (or had had). Which would help explain what was going on for him. Layering and layering the story telling. I'm hoping it worked.
Also, that last bit of captioned dialogue is partly the response in the conversation he's having with some unnamed person but also partly me having a little fun and saying to John [Reppion] har har, I tricked you – you thought this was going one way and it went another 🙂
I'm not sure what John makes of it yet. Could be he hates it (hope not!) but we'll see.
Happy New Year, everyone!
(And bonus, the b&w version…)