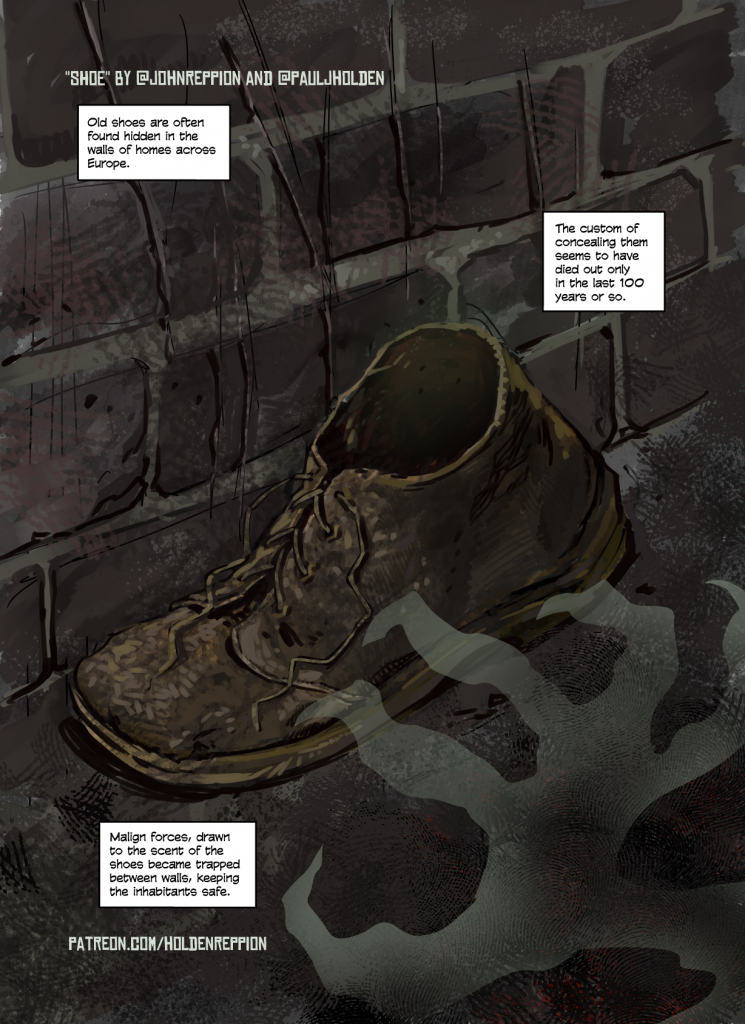 You can support John and I creating more of these comics at: patreon.com/holdenreppion
Phew, just under the wire.
Every piece of art now is an act of defiance. A defiance of the invisible enemy which is both unstoppable and imminently beatable. Patience and cleanliness. Seem to be key.
So as long as John is able to supply me with folkloric tweets, I will supply you with comics. Even if this weeks (and last weeks, I admit) are more just illustrations.
The shoe here is based a little loosely on Van Gough's shoe (here https://www.metmuseum.org/art/collection/search/436533)
As I once said on twitter, I'm clearly better than Van Gough because he never sold any work and I can keep my glasses on. (This was, of course, entirely a joke)
How to represent malign forces though? well, I grew up on British Boys comics where a stinky old shoe would have pong lines coming from it, so I played with adding a little green odor to the shoe, but it cut across it look like a proper painting (though I admit, there's still a tint of greeny pong on the shoe if you look). But I switched to using it to represent a malign force. Creating a layer with a claw shaped mask in clip studio, then spraying a colour on that layer give me plenty of scope to experiment and move it around.
Hope it works, next week, I'm determined to draw a more meaty comic. But well, we'll see – it's been a weird month.