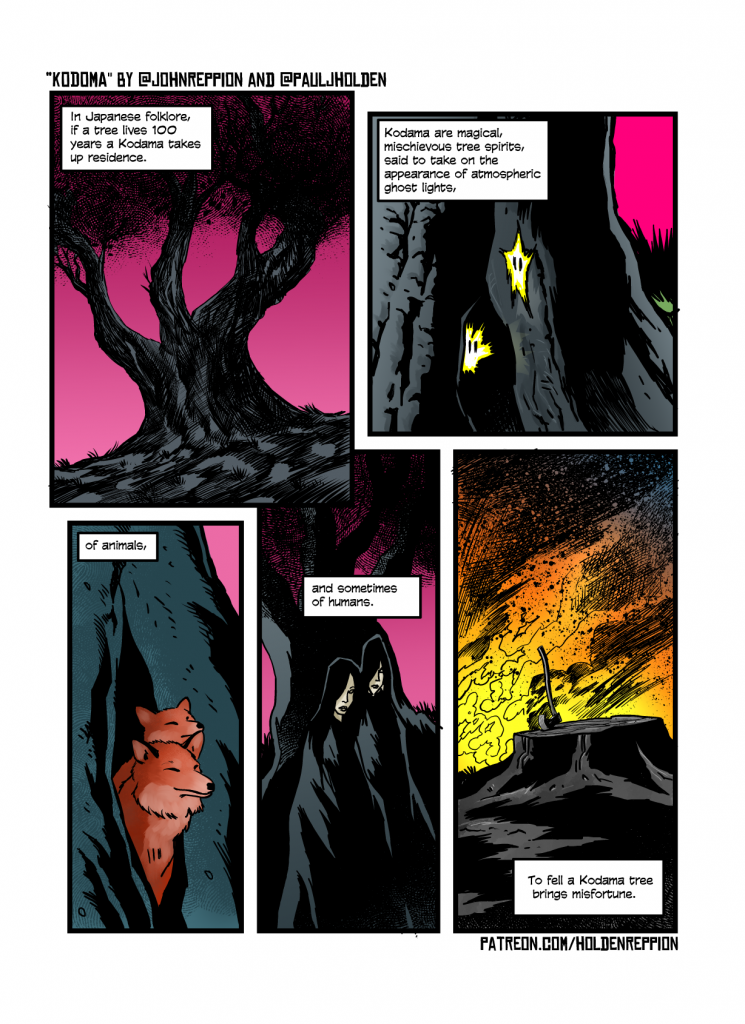 Originally posted at Patreon.com/holdenreppion
I'm trying to transition my digital drawing over to the ipad and away from the big desktop. Partly this is about space, partly display quality (ipad pro vs cintiq lo res) partly about affordability – if my current big computer system goes (a 27" cintiq and a mac mini) I couldn't afford to replace it, but I could afford to replace my ipad. (Maybe… probably not actually)
So, my I pencilled, inked, coloured and lettered this on the iPad Pro running Clip Studio Ex.
Now, on to the art. The colours here were inspired (of all things) by a screen saver running on my apple tv (YES, I AM ENTIRELY AN APPLE HOUSEHOLD, I'M SORRY) it was a great shot of Hollywood with a weird coloured sky. It may not even have been pink, but that fused in my head with the colours of cherry blossoms, and here we are.
I googled the Kodoma – and you'll largely get these cute looking sprites that, I think, are from a Studio Ghibli film so I ruled those out. That said, I couldn't help myself and added little eyes to the stars of twinkly light-sprites.
Next an animal, I thought fox would be fun, and because I'd drawn two stars it seemed right to draw two foxes. Ditto with the humans.
And the final panel was gonna be black and white but the rest is pretty monochrome anyway, so I thought I'd change the background colour to orange for the fire.
Anyway, that's it. Just the facts this time. Hope you're keeping well!