If you sign up to our patreon you'll have read this post already, and you'll be helping us create brand new comics every week.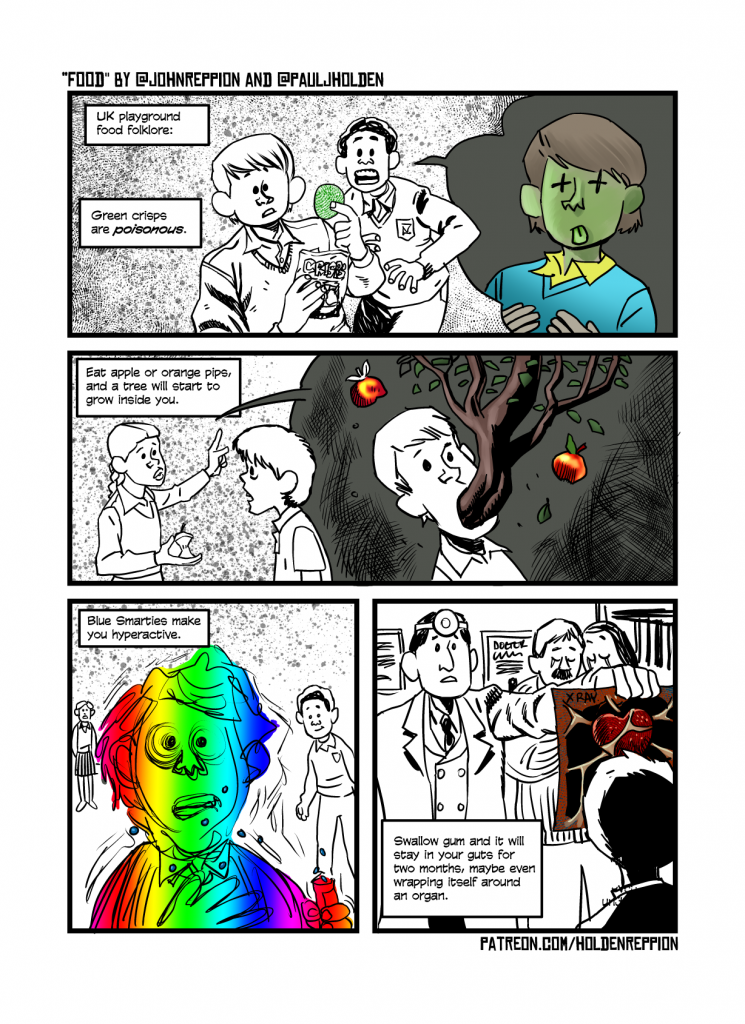 Originally posted here.
Hey ho!
Started with a bunch of different kids and ended up being one based on me experiencing all of this, because, you know, I did…
Green Crisps, even to this day I'm still a little wary over green crisps, I'll eat them, but I'll be suspicious.
Pips – oh man, one of my best mates in primary school (age about 7?) was a fella called Paul Brolly who would eat an apple whole, core, pips, the bit of twig if it was there. A feat that would leave me wide eyed. It was fairly plausible a tree would grow from your stomach straight up your throat and out your mouth. This seemed entirely consistent with all the facts, and yet, Paul Brolly defied all of them. He was a medical marvel.
Blue Smarties. I was pretty hyper as a kid, so I'm not sure if I ever remember this one, but I'm certainly aware of it now. (Fun fact: red colouring E120 is made from insects, I'm pretty sure that would've blown my mind as a kid)
And finally…
I can actually remember where I was the first time I was told swallowing gum would stay in your gut. I was about 6 or so, and my mum told me. And I remember thinking "but I've been doing this for ages, is all the bubble gum gonna stay in there??"
To this day, I've no idea what happened to all the bubble gum in my gut.
John Reppion wrote a fun little essay to go with this week's tweet here.