So, let's try and do this.
What did I do in May?
Well, let's start with the good stuff – man this was a cool month for things I've got in print!
Judge Dredd Chimpsky's law drew to a close in 2000AD. Five episodes of old fashioned Dredd adventures, with everyone's favourite hyper intelligent bonobo, Noam Chimpsky.
Lookit his little face.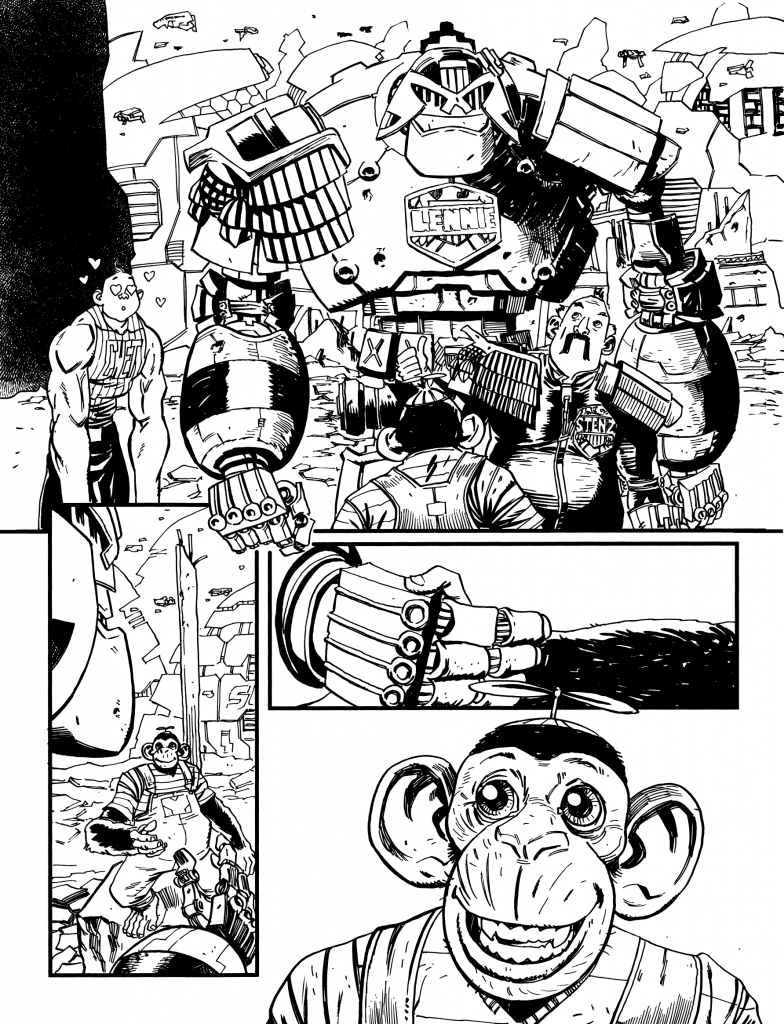 Chimpsky WILL return!
Over in the Judge Dredd Megazine, the latest issue had a cover by me, so that's cool as the three part Dredd serial (Bad Sector written by Arthur Wyatt) also finished. A very different Dredd to the chimpsky story. I hope you liked it too.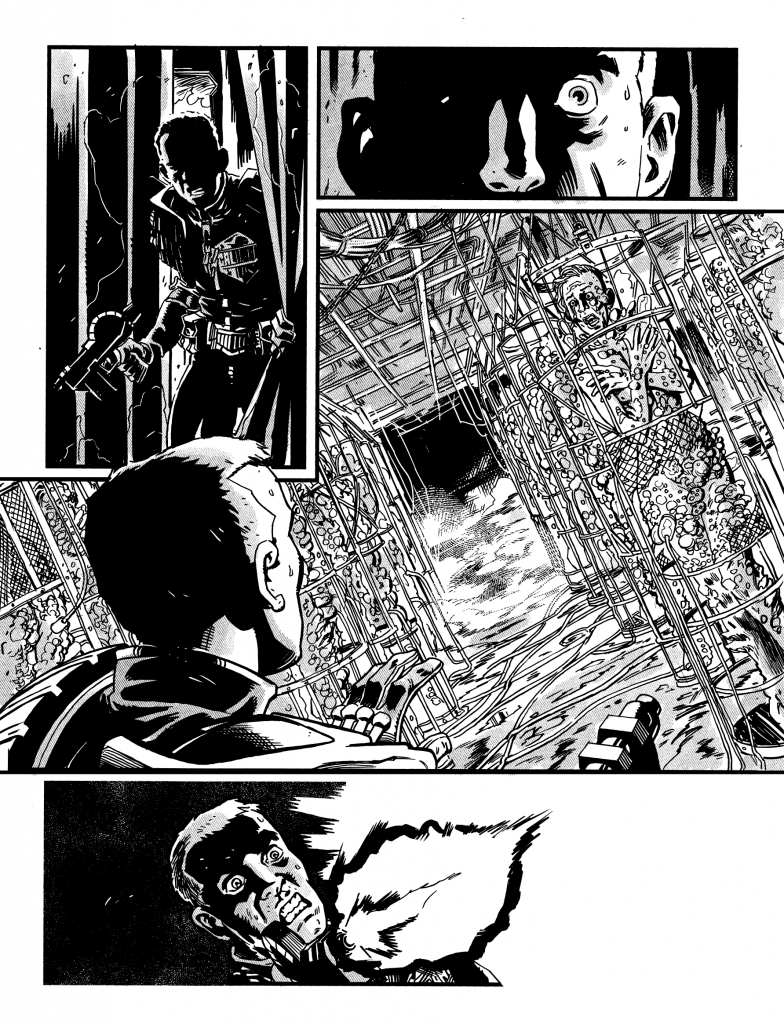 Also this month, in the Times, I had a one page Roy of the Rovers story appear in print! (Yes, that is weird! me, football?)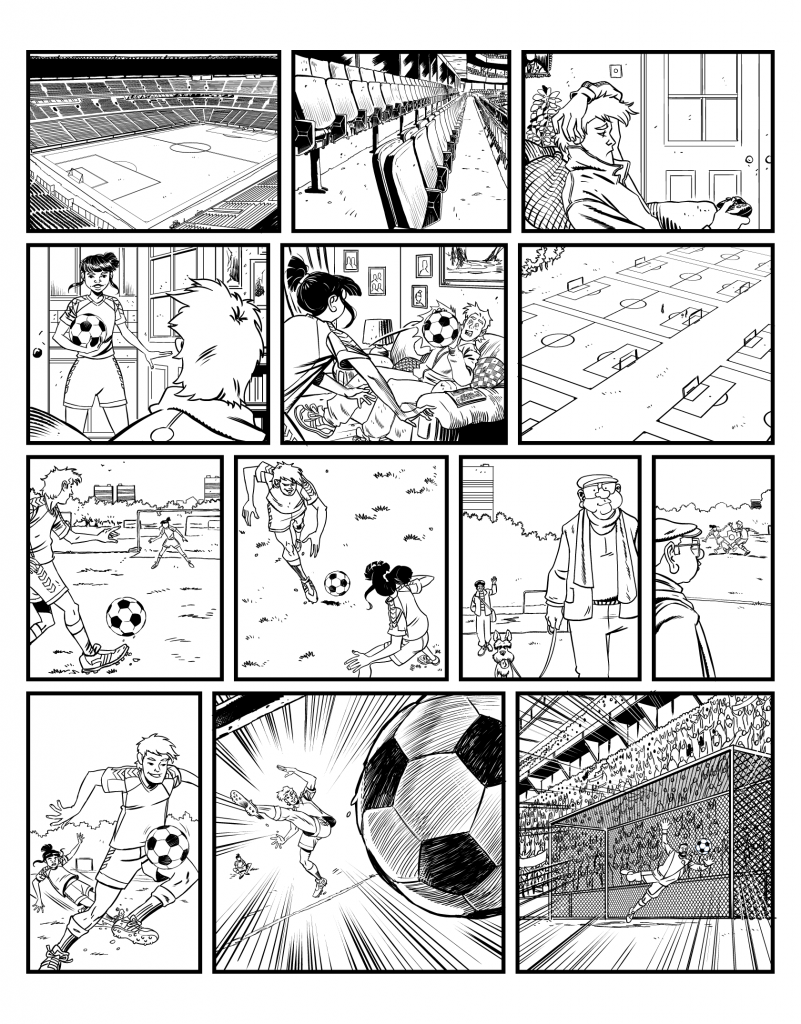 I started a live sketch show, roughly an hour of me chatting and sketching on facebook. The most recent episode went well, but scheduling conflicted with the launch of Nasa's first new manned spacecraft in decades, so that was annoying (bah! NASAAAAA!)
I'm hoping I can keep it up, if you'd like to buy a sketch from me, that's the way to go!
And, I managed to make enough selling some sketches and tings to buy myself the new iPad Pro 2020 – and it's LOVELY! Same size screen, smaller/lighter and generally a bit nippier. Love it.
Ok, so what did I actually draw, and more importantly, what did I invoice for?
1 Episode (6 pages of a Dredd) part 2 of a new Chimpsky strip.
1 new Dredd Cover
1 Cover for The 77 (a kickstarter comic created to reflect the kind of British comics that came out in '70s)
3 page strip with Al Ewing (you'll see – also, these were pencils, inks, colours and letters)
and .. uhm… that might be it. Crap. That's not been a good month. Though I did also finish a 7 page WWI story that's taken ages (waiting on notes and approval) so that I can finally invoice that.
Also, would like it, your honour, if you took in to account four pages of Folklore Thursday (pencils, inks, colours, lettering)
So a total of: 14 pages complete and 7 pages of inks (making 21 pages completed this month)
Oh – just remembered, four pages of an oddball little comic job that isn't for comics, but is comics (of a total of 20 pages).
So let's add that in – 26 pages complete.
Well, it's not as terrible as I first feared, but it's literally unsustainable (given the percentage of invoicable/time taken to draw or finish some of it). I need to start upping my output. (or, you know, find a wealthy fan who wants to buy all my originally artwork that is super reasonably priced)
So, what's ahead:
I've two more episodes of Dredd to do (12 pages). So that's my big plan. Concurrent to that, four more episodes of Folklore Thursday (which is taking us closer and closer to the end of year one). A four page strip for the 77, and I'd like to do another 10 pages of the oddball comic thing. Bringing the months work to 32.
AHAHAHAHA.
Ahahaha. Nope, that's unlikely. Let's say I'll be happy to hit 25 again though.
Anyway, hope your month wasn't terrible and let's see how it goes in June…