*(Yes, I know, it should be "Tank fly boss walk jam nitty gritty", but then the title would make NO sense in context of the post)
Ok, here we go – this is a tech post, in which I report what my current tech setup looks like, dull as dishwater to most, but I lived and breathed tech stuff for years, so I LOVE IT!
Main setup:
Mac Mini M1, 512Gb Hd / 8 Gb RAM
I wanted to, really really wanted to max spec the ram on this, but I read a bunch of reviews and ram – weirdly – didn't seem to make much difference to people. I read reviews where people compared 16Gb in the mac m1 to 64Gb in larger macs and the mac mini was still outperforming them. So I took a punt – I upgraded my old mac to 32Gb from 8Gb and it didn't seem to make a whole heck of a lot of difference, so I reasoned 8Gb in the Mac Mini would probably be fine, and you know what… I think it is. At least for my purposes (which largely comprise of drawing in clip studio, building simple 3d models in blender, internet browsing and er… not much else). YMMV, of course.
I've paired this to a wired keyboard and mouse – the keyboard is branded Mobility Labs (it's a full key keyboard, fairly cheap too, ideally I wanted a wired with light up keys, but couldn't find one that didn't look like the circus was in town) and the mouse is a logitech (I did have a wireless one but it hit the ground one too many times…)
Wacom Cintiq 27" QHD Monitor via HDMI
Ah, old faithful, I've had this plugged into everything from an apple laptop, a pc desktop, to the old mac mini and finally the new M1 mac mini. Previously I had her plugged in via the Digital Video Out – via a USB-C convertor into the mac, but I figured since the mac M1 has just two USB-C (and I'm already using one on an external SSD hard drive for backups) I wanted to move it to HDMI.
The wacom has a bunch of outputs in the back, hidden behind a panel, unfortunately, my panel was also behind a robustly mounted monitor arm, and the thoughts of removing it was giving me the heebie jeebies, so I searched around for Digital Video to HDMI convertor – which, it turns out, is incredibly annoyingly hard to find. I did find one and it was about £50, so I bit the bullet removed the arm and the panel and stuck a hdmi cable in there, and the whole thing is exactly no different than it was with the digital video output, except now I have a spare USB-C.
Turns out though, if I want a second monitor, I'll end up using the USB-C anyway, but we'll see if that ever becomes an issue.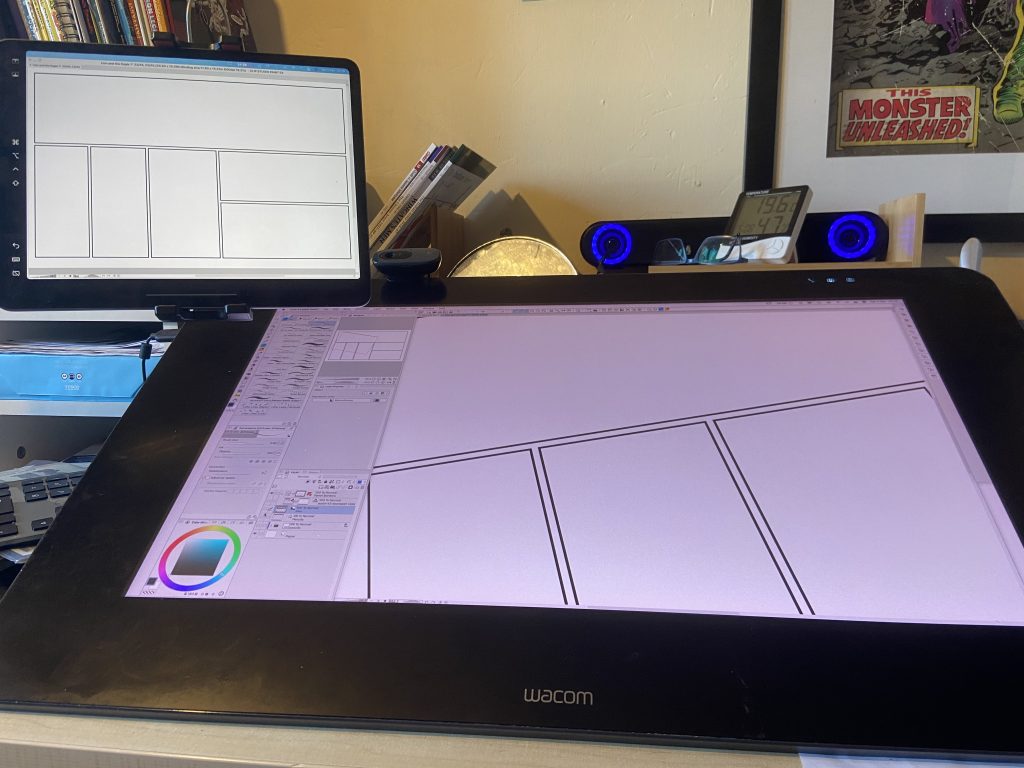 iPad Pro 12.9
And finally, my venerable ipad pro 12.9 – invaluable as a side device for watching telly, but also – and more valid – I've been using apple's Sidecar feature to use the iPad as a second monitor, specifically when I'm working on double page spreads. When I work digitally I like to have a full page view on screen (easy with single pages) and a zoomed in view that I'm working on (clip studio allows multiple views per image).
Again, in a single page this is fine on the cintiq, unfortunately on a double page spread this is pretty hard to work in – there's just not enough real estate. Fortunately the ipad is PERFECT for showing a full double page spread, and it can do it at 264dpi. so you can see details. I've mounted it on an anglepoise arm, and it's so light, out of its case, it can just float above my main cintiq screen.
Printer wise, I'm still running a Brother DCP6690CW – long discontinued, but perfect for scanning A3/Printing A3 pencils. When I do traditional pencils and inks, it's invaluable. But I've also added a Brother HL-2350DW laser printer for double sided A4 printing, great for scripts and making mini comics on…
Back up computers:
The old intel Mac Mini is still with me, a reserve mac if I need it. As is my old desktop windows PC system. Look, redundancy isn't redundancy until you've got multiple points of back up. My biggest weakness right now is the Wacom Cintiq – if it goes, I'm in trouble. I'd love the new Wacom Cintiq Pro 32 4k screen, but it's an eye watering £3,149 – though if I did get it, you can bet the cintiq 24 is gonna sit right beside it as my back up device.