(Holibobs was a word my mum used a lot for holidays, I'd entirely forgotten about it until there now)
So I'm on hols, one week in Rathmullan – this is our regular escape from it all. We book a little holiday house and the kids get their own room, we get a dish washer and a tumble dryer and day trips with me, typically, squeezing work in between it all.
Here's the first three, with some notes!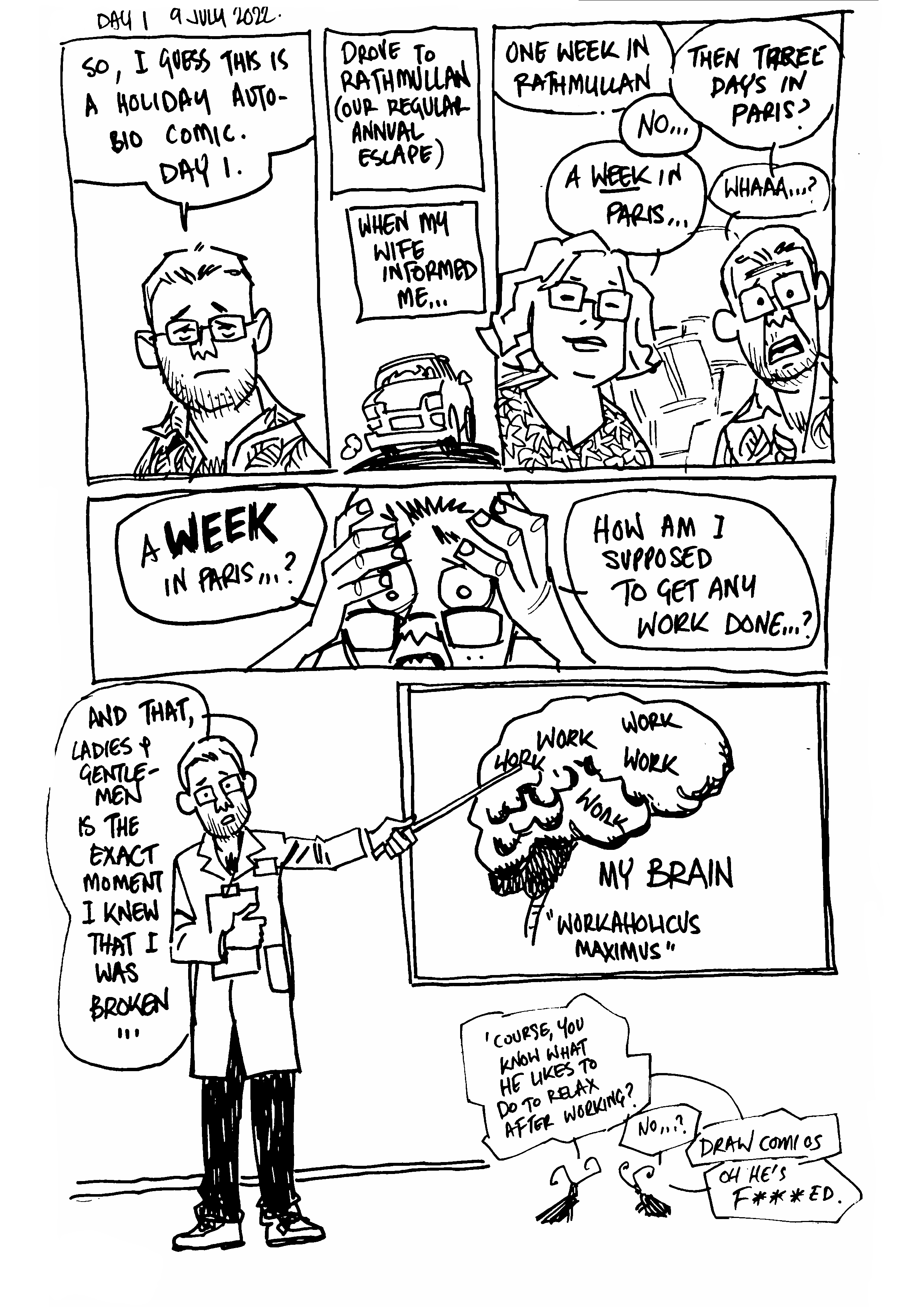 Day 1 – an actual conversation I had with my wife, in the car. When she told me we'd be in france for a week I felt sick. Three days in Disney land, three days in Paris. Then I thought – jesus what's wrong with me. The truth is I love drawing comics, but I've spent most of during covid trying to squeeze as much work in as I can. And I'm not sure how to reset that.
Ok, the little one page comic is also work, but it feels like a different thing. An act of defiance. I had fun doing it. I could only lay my hand on one pen and I thought, let's just use that.
Day 2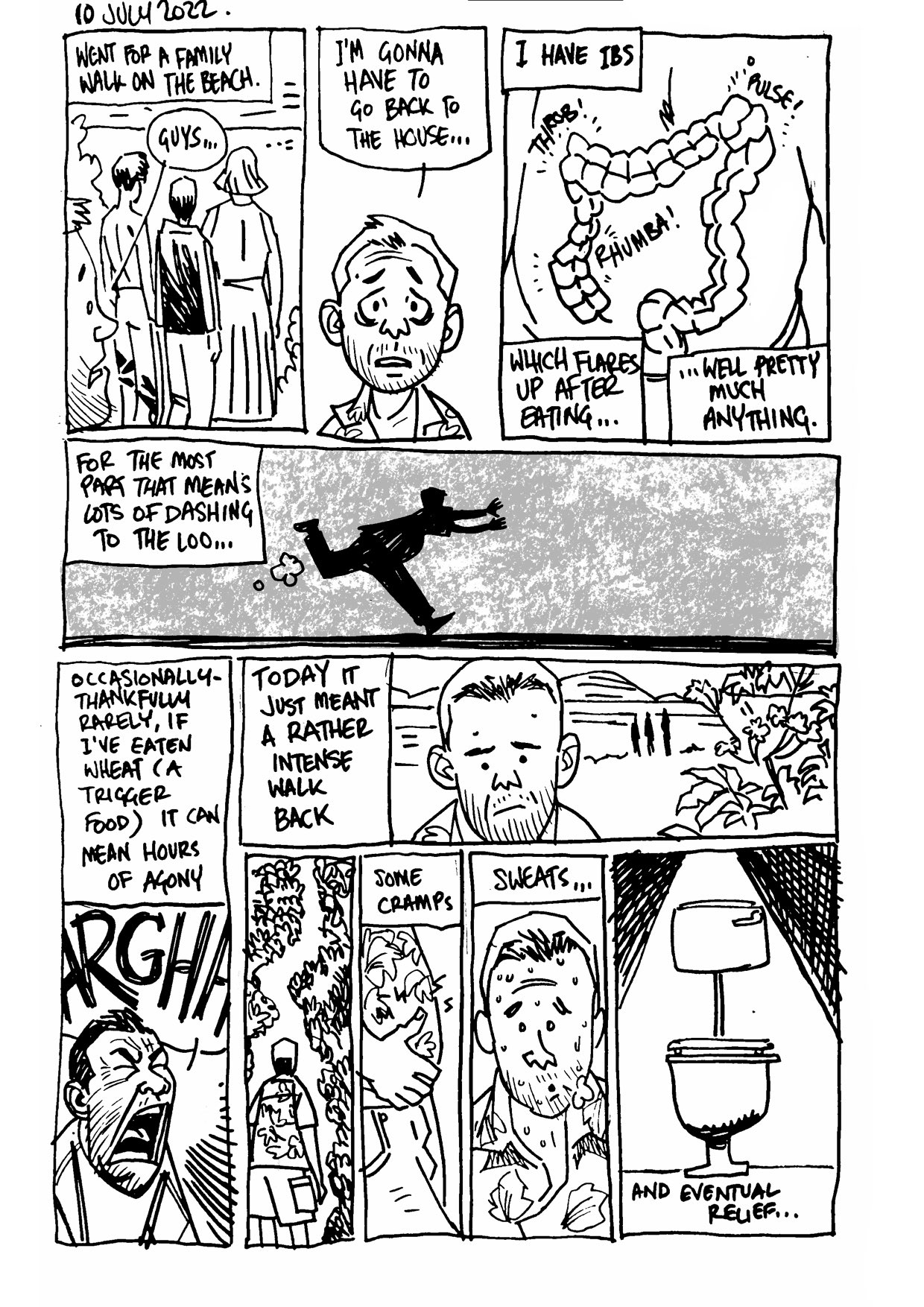 It's early to start getting into toilet stuff, but here we are, eh. Again, another actual thing that happened – I should've gone to the loo when I left, and I found walking on dry sand (collapsing, as it did under my feet) was destablising to my tummy and it was a source of constant danger (next time, I bring immodium). We went out of pizza after this (gluten free for me, because cramps and loo visits are the GOOD options …) and it was pretty much the same thing. Basically if I eat, I need the loo 15 minutes later. Regular as clockwork.
Day 3
A prompt from twitter "If you could travel back in time and only tell yourself three words what would they be…" – my initial thought was "Remember don't ever…" and just leave it hanging there. Saw quite a lot of the "Buy Apple Stock!" messages but surely that would depend on when you see your younger self and how much your younger self is aware of what apple is. (This has sparked a follow up comic, but you'll see that tomorrow)
Anyway, this has been a fun exercise. I might even keep it up. Day 3 was a pain for the art though, days 1 and 2 I had no really good tools so used the big thick pen I had, day 3 I found a smaller pen and decided to up the quality but that leads to more thinking and more work that needs rescued, so a stupid idea. Stick with simple.
They're all drawn in an A4 SAKURA sketchbook, pencilled in HB .5 inked with a Winsor and Newton pigment pen 1.0 (except day 3 which was inked with a 0.5) photographed on my phone using a scan app "Scanner Pro" which ups the contrast, and straightens the image up (even if the camera is at a funny angle). Then pumped over to Procreate on the iPad pro where I use the levels to clean it up and export as a decent sized PNG.
I suspect I'll keep it up for the hols at least, even if I am now super tempted to keep going and then collect 30 days worth in a small press comic… that'd be stupid though…