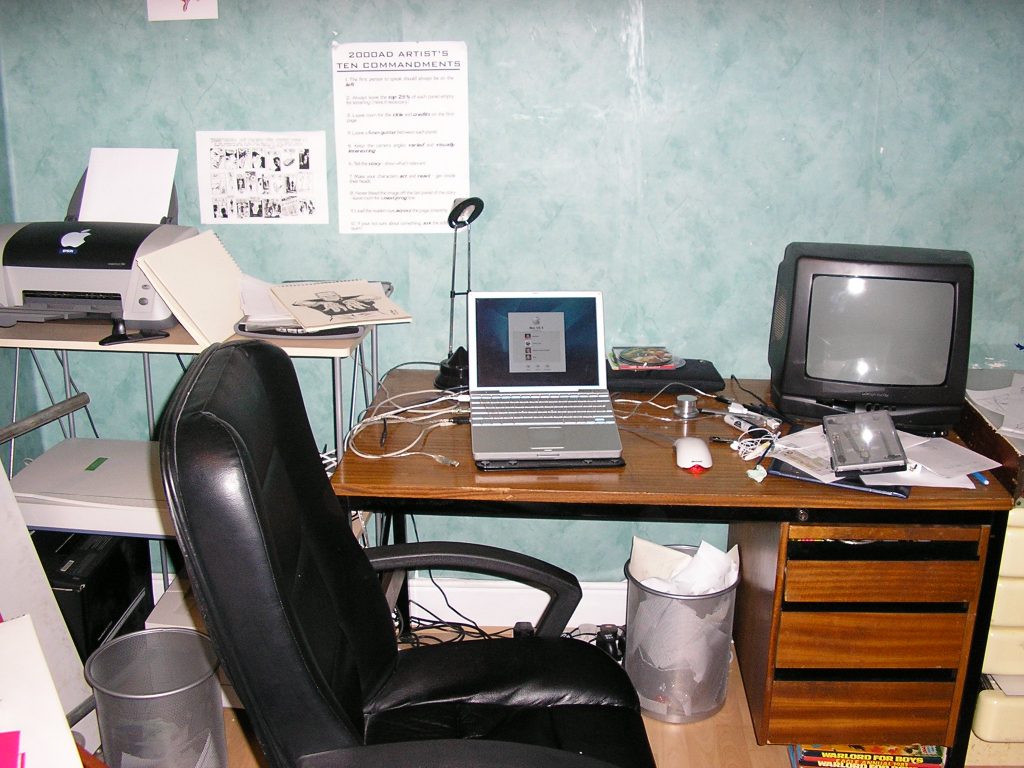 It's a little bit cheeky to assume I should write about this, but I think, one of the best – most defining characteristics of 2000AD is there's NO single way of drawing comics for 2000AD. And anyway, I've been at this nearly 20 years, if not me then WHO??? (please do not send me a list of 1,000 other, more suitable people)
This page is just a start, I'll be coming back to it to update and expand, so keep it bookmarked – and if you want to email me pjholden at gmail dot com, to ask me questions, feel free (just be warned, I can get a bit buried, and anything you ask may turn up in an faq on this page.)
First you should totally go and read the 2000AD guidelines. One of the things I wanna highlight here is the Ten Commandments, I used to have these printed and on a wall in my studio (see picture!)
Here's the guidelines culled from this page…
THE FIRST PERSON TO SPEAK SHOULD ALWAYS BE ON THE LEFT
ALWAYS LEAVE THE TOP 25% OF EACH PANEL EMPTY FOR LETTERING (MORE IF NECESSARY)
LEAVE ROOM FOR THE TITLE AND CREDITS ON THE FIRST PAGE
LEAVE A 5mm (on A3) GUTTER BETWEEN EVERY PANEL
KEEP THE 'CAMERA' ANGLES VARIED AND VISUALLY INTERESTING
TELL THE STORY – SHOW WHAT'S RELEVANT
MAKE YOUR CHARACTERS ACT AND REACT – GET INSIDE THEIR HEADS
NEVER BLEED THE IMAGE OFF THE LAST PANEL OF THE STORY – LEAVE ROOM FOR 'NEXT PROG' LINE
LEAD THE READER'S EYE ACROSS THE PAGE SMOOTHLY
IF YOU'RE NOT SURE ABOUT SOMETHING, ASK THE EDITORIAL TEAM!
Now, some of this is very useful for all comics drawing (and I've emboldened those things that are) and some are very weirdly specific to 2000AD (leave room for 'next prog' for example)
Some of my focus recently has been on finding the big image to draw. I've always been big on storytelling (storytelling is everything, kill your babies for storytelling), but I've been looking for more ways to pop my art – and so, finding a big single image to focus the page around while balancing it against making the storytelling work.
In general, 2000AD art leans heavier towards detail and spikiness rather than cartoony-though I skirt that rule quite a lot, and it's a rule that's been flouted by many artists over the years.
Tools of the Trade
Page Sizes
If you wanna draw for 2000AD you'll need to know what size to draw at, and while there are detailed page sizes for this (and if you score a gig, the Mighty Tharg will send you a missive telling you exactly how big to draw it at) for a quick and dirty page size just do this, using an A3 page – Measure IN from the left 16mm, at the top and bottom of the left hand side of the page, and measure in from the right at 16mm from the right hand side of the page. There's are your left/right margins. Top and bottom, you simply measure in 30mm.
That box in the centre is the correct size for a 2000AD art page.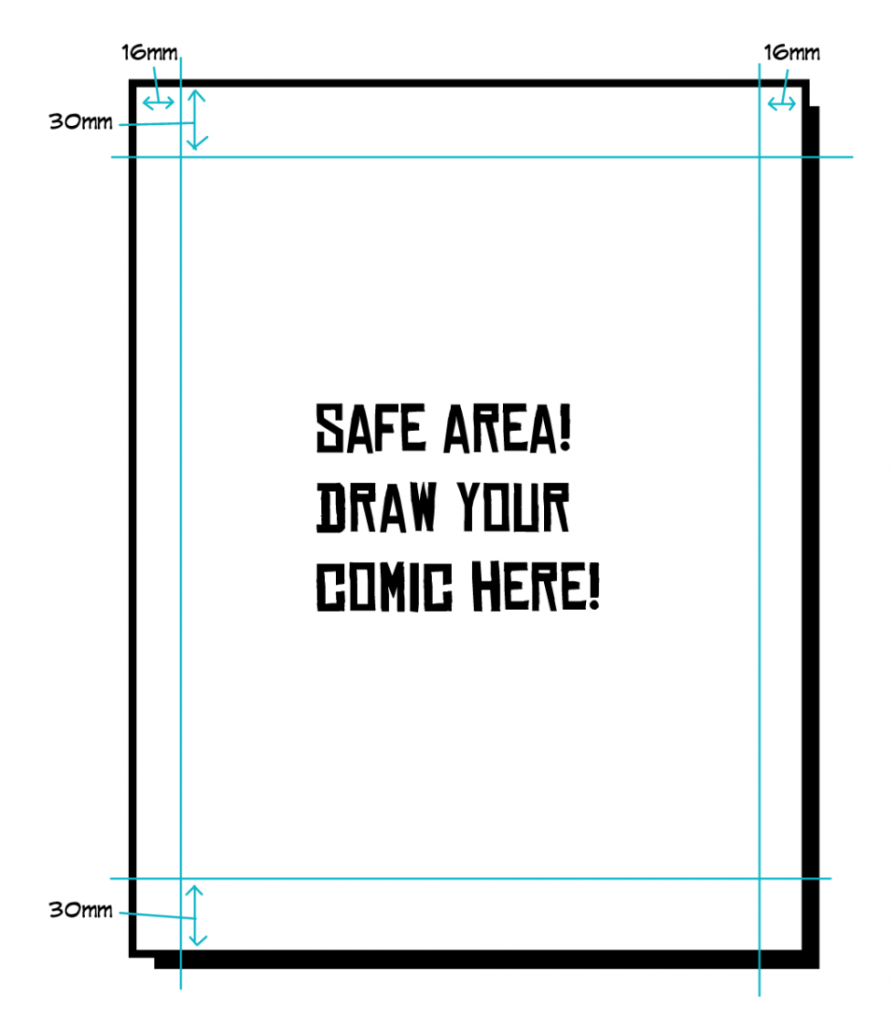 If you're a traditional pen and ink type, I recommend Bristol Board. My preference is for whatever's cheapest – everything I draw ends up scanned in anyway, so I go with Canson A3 Bristol Board pads.
If you're interesting in inking, brush offers the best most flexible tool for inking – but it's a hard task master.
Dip pen is the next step in flexibility/difficulty toolset. After that there's lots of great brush pens (zebra, and more) than often come directly from japan (what a world, eh?)
Resources
Books
2000AD Scripts Book – collects a whole bunch of scripts from 2000AD.
The Best of Tharg's Future Shocks – early 2000AD, look at that wonderful variety of art.
2000AD Presents Sci Fi Thrillers – mixed sci fi stories from 2000AD, early and modern.
How to Draw by Scott Robertson (subtitled: "Drawing and Sketching Objects and Environments from your Imagination") easily one of the best books on perspective there is and great for ideas for scifi stuff.
Links
How to Think When you Draw – by the Ethrington Bros – the collect these in books and then do massively succesful kickstarters with them, you should buy them if you see them, they are extraordinarily useful.