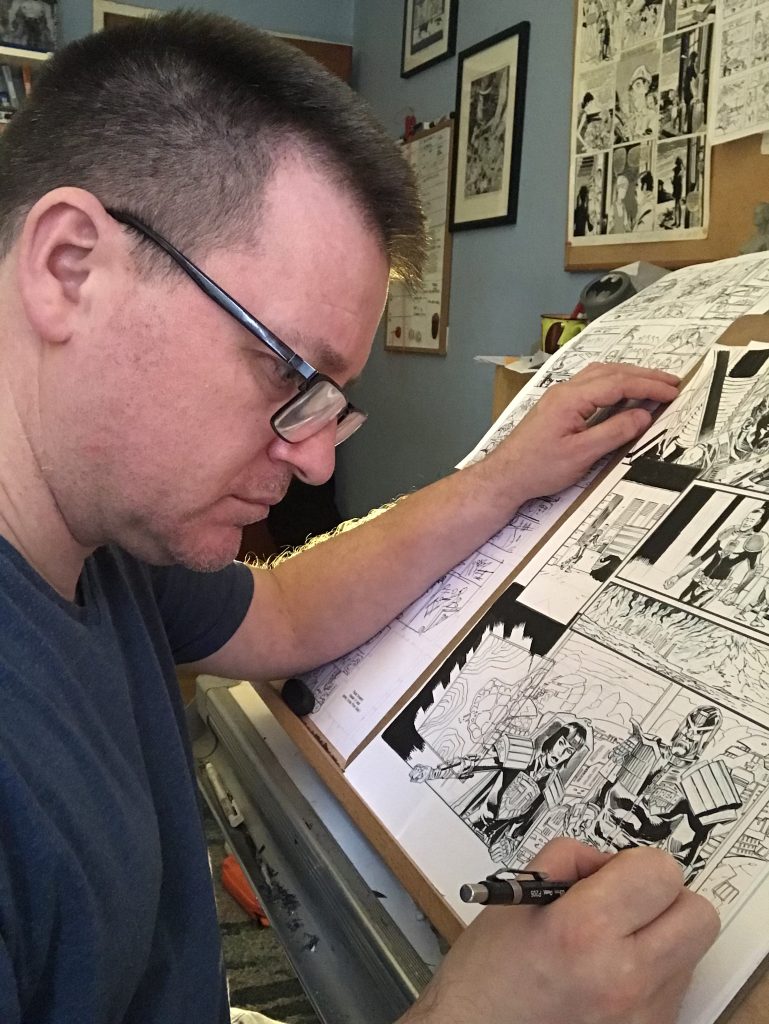 PJ Holden is a Belfast based comic artist best known for his work for Judge Dredd for 2000AD.
Over the past twenty years, PJ, has built a reputation as a rock solid storyteller able to tell illustrate everything from grim dystopian futures, to over the top comedy adventures through War stories on land, sea and air.
Hi most recent graphic novel with Garth Ennis, called "Stringbags" was published in 2020 from Dead Reckoning.
A potted history.
PJ began his working life in IT, age 14 – working for a local computer store. His career in IT took him through every possible job – from sales, support, programming, database design and, ultimately, as the IT Manager for a major Northern Ireland Charity.
PJ's first professional work was actually in 1995 with Malachy Coney and Fantagraphics, drawing a 48 page comic called Holy Cross. subsequent to that, PJ then illustrated Mal's 79 page graphic novella The Moon Looked Down and Laughed (also published by Fantagraphics)
But it wasn't until 2001, when PJ had his break with 2000AD, illustrating the Judge Dredd story "Sino-City" written by Gordon Rennie, that he considers his professional career to have started.
For Eight years, PJ juggled IT management, drawing comics, a HNC in Software Engineering and having kids.
During this time, PJ worked for 2000AD drawing Judge Dredd, Rogue Trooper and sundry other stories, as well as the kid's comic Nanas and Custard for Toxic and various short stories for Warhammer Monthly.
In 2008, following Apple's introduction of the App Store, PJ pitched the idea of an iPhone comic to Infurious – an iPhone development company. The app, though, was "banned" by Apple (in reality the content was deemed too violent and they refused to add it to the app store) and the subsequent furore in the press (at one point PJ and Infurious were being interviewed internationally, talking to Marvel, DC and other publishers) allowed PJ and Infurious to licence a version of the app to NBC Universal for their Heroes Comic.
Taking the small pot of money from this, PJ decided to give up computers and began working in comics full time.
From 2008 PJ has been a full time comic artist and writer. He's written extensively for imagineFX on using Manga Studio (better known now as Clip Studio Paint) drawn hundreds of pages of Dredd and co-created a number of creator owned books. And is looking forward to a nice long life drawing comics.
PJ is the co-host of the podcast Sunnyside Podcast Show. An eclectic mix of stupid anacdotes, silly stories and laughing at each other with the odd film or tv review thrown in.
PJ is married with two kids.