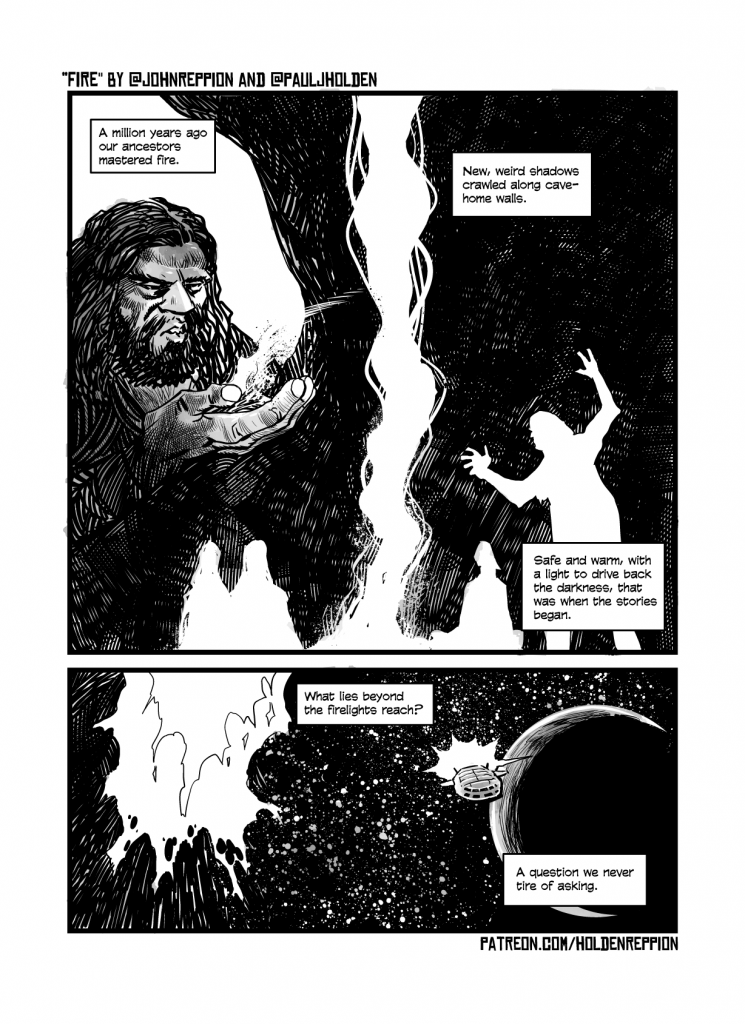 Originally posted at my Patreon.
This is one of those strips you feel smug about how you've turned it into to something. John's tweets can sometimes be so evocative they paint a picture right in my brain and I've just got Toppi's The Enchanted World so the combination provoked a reaction. I'll not pretend I got any where near Toppi (I am but a bit of smouldering moss to his bright white hot sun) but sometimes it's about trying something. 
It's all digital, think this could have benifited from being a traditionally drawn thing. Mark making in digital is so restrictive compared to the same thing in analogue. By which I mean you can get a variety of cool marks from the digital tools but you're rarely surprised by them. Ink splatter, rough lines, etc. All possible, but all identically repeatable.
Even lifting a stick and dipping it in ink will produce more variety, more surprises, so I am slightly cross with myself for not giving that ago. But who knows, we've 10 more strips to do! (TEN??? That' can't be right.. but no… looks like that is.. crickey!) so maybe I'll get to do try this again.
On the other hand, two very monochrome strips one after the other, time for something radically different (a photostrip?? that would be … weird… doable… but weird…? I dunno, sod it, the idea is in my head now…)
Anyway, hope you like it!
Don't forget, at the end of all this I'm giving away some art, to the top 5 patron contributors, Patron informs me I can't RANDOMLY give away sketches to patrons (as it's considered a raffle), so instead of giving two sketches to random patrons, I'll give sketches to the TOP *7* patreons (so if you're on a $1 pledge you could guarantee a sketch by moving to the a $10 pledge fairly easily 🙂
And now a word from our sponsors:
SATURDAY LIVE SKETCH SHOW 9PM ON TWITCH, YOUTUBE, FACEBOOK LIVE AND TWITTER.
I've figured out how to multistream and how to get all the comments in one place too, so this Saturday I'll be sketching. I've a full list of commissions to get through, so for one hour, you'll watch me sketch about 7-8 drawings. Tune in, and if you'd love a sketch for yourself, you can commission for the following weeks show by emailing me pjholden@gmail.com.