Look, I'm a sucker for a monster-of-the-week story, or Lone hero wanders the earth, misunderstood and having adventures along the way. So, if I *had* seen the mandalorian it would probably be my favourite Star Wars thing. So much so, it may be the only time I've ever done a fan star wars strip… And here it is…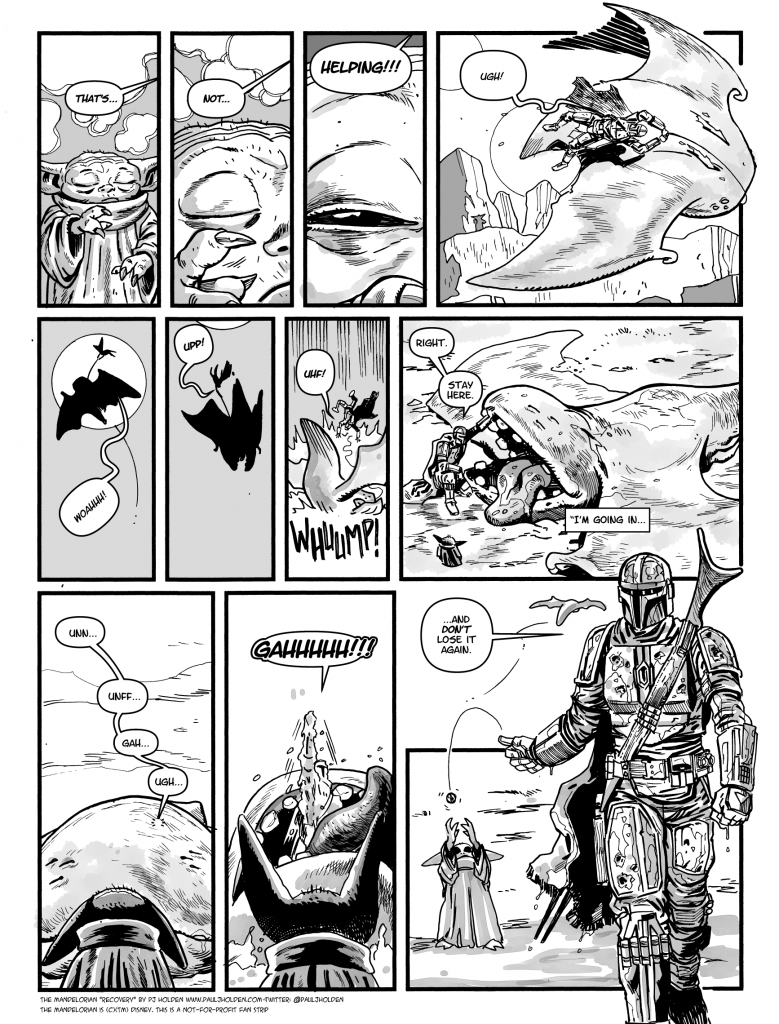 This came together VERY quickly.
While doing the Dredd strip I got it in my head I'd love – LOVE – to draw a Mandelorian comic (and especially in an official capacity) and I even posted this on twitter:
(the thing with drawing that Dredd, is I really want to write and draw a Mandalorian strip, but man does not feed his family by writing and drawing fan strips…)

4:25pm
So you know, I wanted to draw some sort of strip, and I was willing myself not to, but I thought if I could think of a one page Mando strip, that would be fun to do then … you know… I might just do it.. and lo, not 5 minutes later on twitter:
(I DID just think of a one page mandalorian story mind you…)

4:56pm

And it was this story pretty much exactly as you see it. (Though I was gonna cut to Mando being tossed and turned every time he speaks in panels 1-3 but in the end there wasn't the room and I felt it worked without doing that).
Told my son about it (he's 11 and loves baby yoda – seen it on the meme-a-verse) and he loved it which sealed the deal, I was gonna do it. But when, then I thought it'd be fun to run a poll on it on twitter, so I set a two hour poll and pushed it a few times, the results came in at 7ish (the time on the tweet is when I asked the question)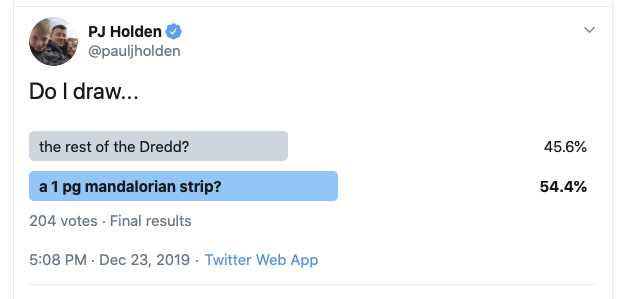 Mind you, I'd already pencilled the Mandalorian strip, in true Adrian Veidt fashion I'd literally finished it 26 minutes before the polls closed (wrote and drew the story exactly as I saw it). All that remained was inking, lettering and greywashing and here we are. Hope you like it!