Oh man, let's start with the Tweet. I admit, on first read of this, I got very excited, I knew EXACTLY what I was gonna do. Which sounds great, but it's inevitably crushingly disappointing as your abilities fail to meet your ambitions (and even worse when the failing is one of laziness more than anything)
60AD. Britain 18 years into a Roman occupation lasting nearly 400. Boudicca, Queen of the Iceni – widowed, whipped, her daughters dishonoured – fought back. 70,000 fell before her. A layer of ash in London's soil still marks the day she burned it to the ground. #FolkloreThursday

– John Reppion
Straight off the bat, I knew we'd see Britain (grabbed here from an internet search of Roman Britain, just used as a placeholder graphic for inking over), then a single strong image of Boudicca killing thousands of romans (ambition) because of the nature of these things you don't get too bogged down in realism, it'll slow you down (if she was in the midst of the murderous revenge rampage, you'd probably not even see her at any angle, buried as she would be by roman bodies). So her leaping over a bunch of shields to get to the next tranche. Ideally I'd've drawn literally thousands, but (abilities) couldn't (lazy) do (time) it.
Sent John pencils cus I actually thought this would be a winner of a strip and I wanted that early Dopamine hit of the writer seeing it and going "Awesome"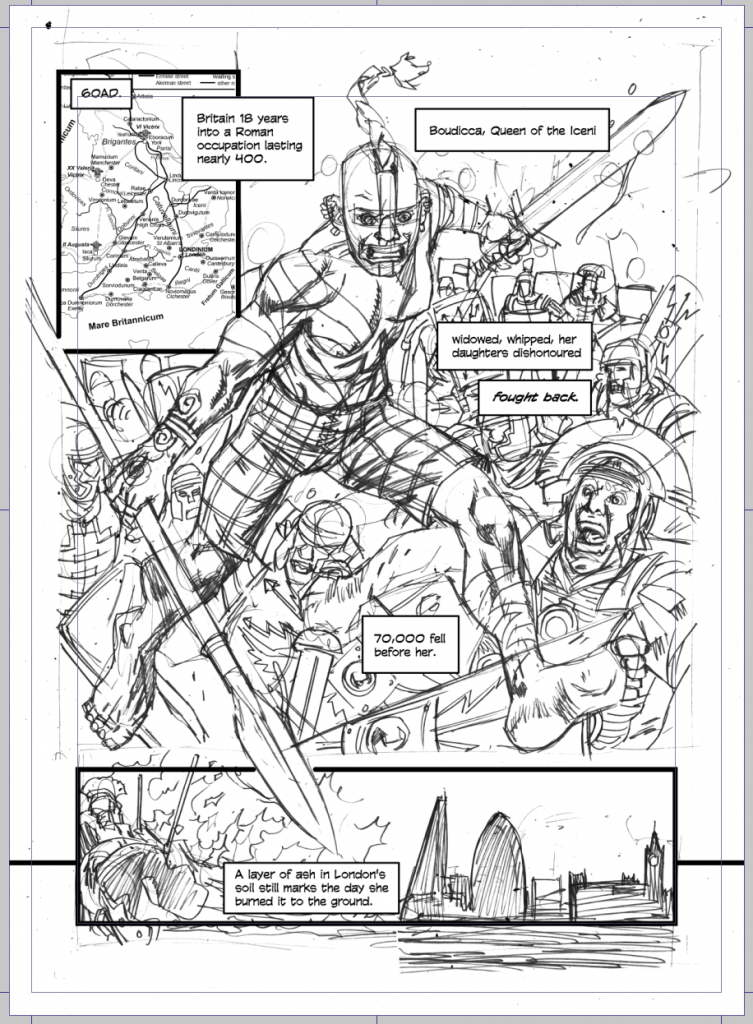 The last panel would be a transition from the battle to modern day london, I thought that would be suitably poetic. The caption in the pencils was, though, destroying the transition – so I ended up moving it for colour.
Boudicca I drew as an older woman out for horrific revenge, coated in Blue Woad, unfettered by clothing (apart from some trousers – I mean my thinking was she would start fully clothed and shed it as the battle continues over days, untroubled by modesty)
Strongly muscular, and I tied the hair into a single braid – there is a historical description of Boedicca by Dio (not Ronnie James)
"In stature she was very tall, in appearance most terrifying, in the glance of her eye most fierce, and her voice was harsh; a great mass of the tawniest hair fell to her hips; around her neck was a large golden necklace; and she wore a tunic of divers colours over which a thick mantle was fastened with a brooch. This was her invariable attire …"

Dio, Roman History (LXII.1-2)
I'm willing to bet money he never set eyes on her (I mean, given she is reckoned to have died around 60/61AD and he wasn't born until c155Ad, it's a safe bet).
That said, the way these things work (and the way they HAVE to work to make them viable) is John sends me a tweet (which is always smart, well researched and based on extant folklore myths or legends) and I use that as a basis for an inspiration that I do WITHOUT RECOURSE TO RESEARCH. I literally don't have time to do that. Plus, it's more fun.
Now, having read the description, I'd've probably kept the single mohawk braid, but made it a lot longer (down to her hips) and definitely given her a gold torc around her neck. But, that aside, it's been interesting watching the reaction to the strip (there's been some negative reaction which seems to come from certain people who reckon I've drawn her as a strong feminist and "ugly" – though they don't seem to give two hoots about the diabolical liberties I've taken with the roman uniforms, so I'm choosing to ignore them)
Anyway, here's the final, hope you like it!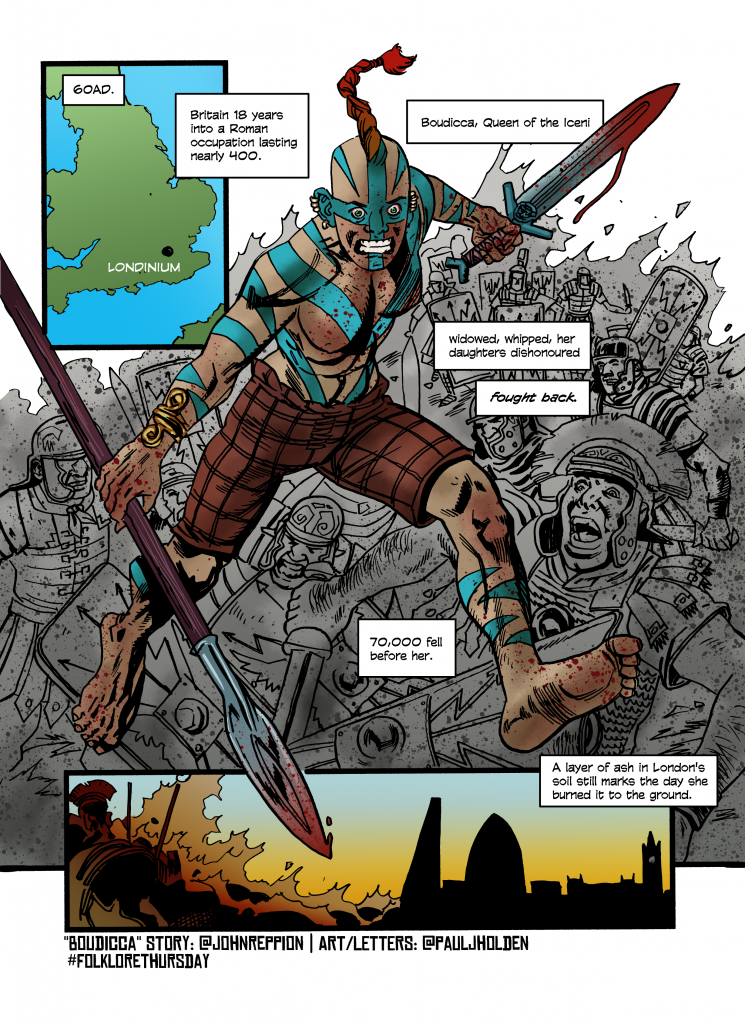 And, finally, John wrote a really interesting article on Boedicca and it's worth a read here.