Got some work done, decided to start playing with logos and layouts for the kickstarter digest idea.
(To recap: a 64 digest comic, it's actually 68 pages – once you include the covers, drawn while I do other work. Scifi/horror like the old UK Starblazer imprint)
So, in order to start working out layouts for a cover I needed a cover. And I didn't have one. So I figured, it was time to test my working hypothesis that I could draw an A5 sized comic at A5 sized (which is about a quarter of the size of a traditional comic).
Man, my eyes are not what they once where, it was a little too tiny. So I might scale up – maybe not all the way to A5, but a decent 40% larger, maybe… (So a single page will fit on an A4 page, but it'll still be smaller than A4)
This cover was a lot of fun to conceptualise and draw. I knew I wanted a sci-fi old school concept, spaceman, fighting monster on new planet. Then I covered his eye with an eyepatch and decided to make the monster blind (and he's hunting it with some rotten meat).
And then a title just came – Kingdom of the Blind – wasn't quite on-the-nose enough – good old pulpy sci required it be called Planet of the Blind (he also requires his surname to be King, if I ever wrote it)
Anyway, here's the cover…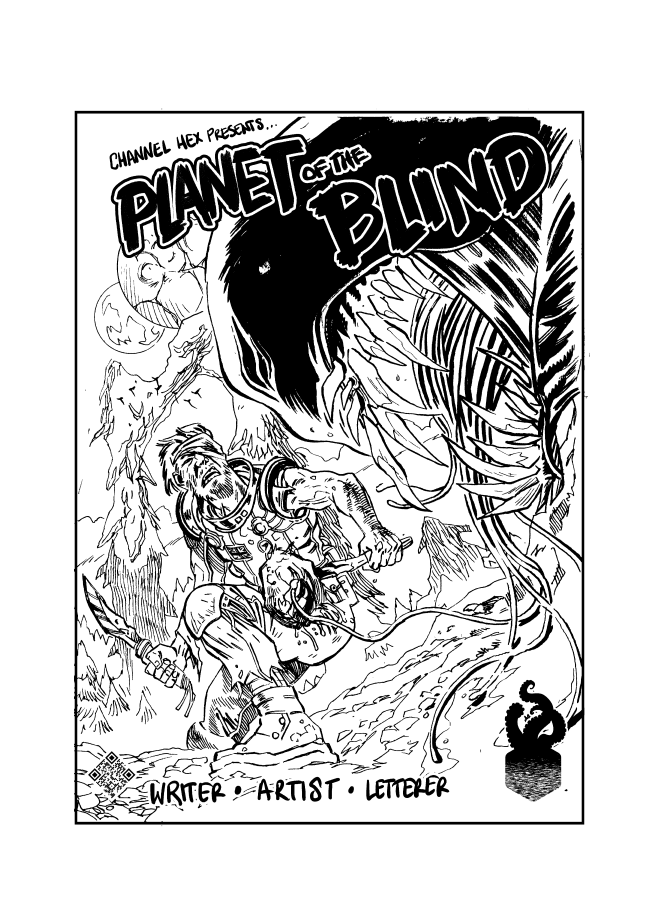 The logo in the bottom right is the Channel Hex logo. Spent some time figuring that out today, tried dozens of variations and ended up … going back to the original logo I designed when I first wanted to do some short channel hex stories a few years ago.
I'm gonna stew over some of these design choices, but it's been fun doing this. I've a promise of a script from a colleague I've done loads with in the past, and he's one of my favourite writers too – so I'm really looking forward to it starting. Gonna be trying "marvel style" (it's alright for me to go – I'M DOING THIS FOR FREE! but it's a bit out of order to say "YOU MUST WRITE A FULL SCRIPT FOR ME")
If you're interested in where this is all going, definitely sign up for my mailing list – I've not sent any posts out in a while, but it's a sure fire way to know when the kickstart is kicking off. Still lots of research to do on that front, I wanna make sure I'm going in to it with my eyes opened as wide as possible -I've had a couple of great chats with people and one of the big things, especially as first kickstarter is KEEP IT SIMPLE – one digital book, one paperback and one hardback and that's it. Try and keep the posting options tight, so you don't accidentally push yourself over the edge promising stuff.