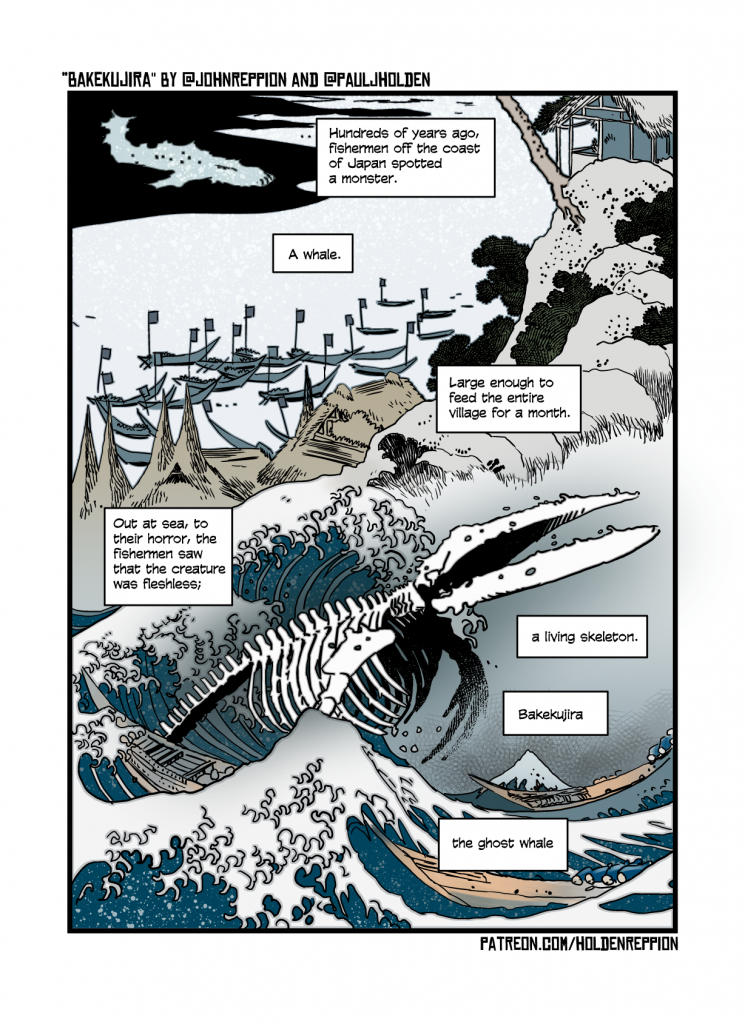 Originally published at Patreon.
Phew, I high time I got to do something of a nod* to Katsushika Hokusai.
My initial thoughts was, I'd obviously get The Wave in there, that was a dead cert (it was only a few years ago watching a documentary it was pointed out the boats and crew bowing before the wave as it was about to hit them…) Then I started trying to figure out ways to join the wave with a panel before it that would be a reverse of it somehow – giving me a neat ying yang symbol built in to the page, googling Hokusai I stumbled across another of his pics (I was looking for how he'd drawn a whale – terribly, as it turns out) called Whaling Off Gotō which suited the bill. Some quick research on whale skeletons and boom! we have all the ingredients for a page of comics.
I just had to trace them then!
Maybe the BBC will make the documentary about Hokusai available again, it was fascinating, incredibly prolific artist generally considered the father of Manga.
*Ok, it's much more than a nod.
NEW: I've set up a redbubble store where you can now buy all sorts of cool things with this on it! The original image is 600dpi, A4 in size, so even enlarged up to be a blanket(!) it should still look super sharp. The redbubble store for this strip is here.