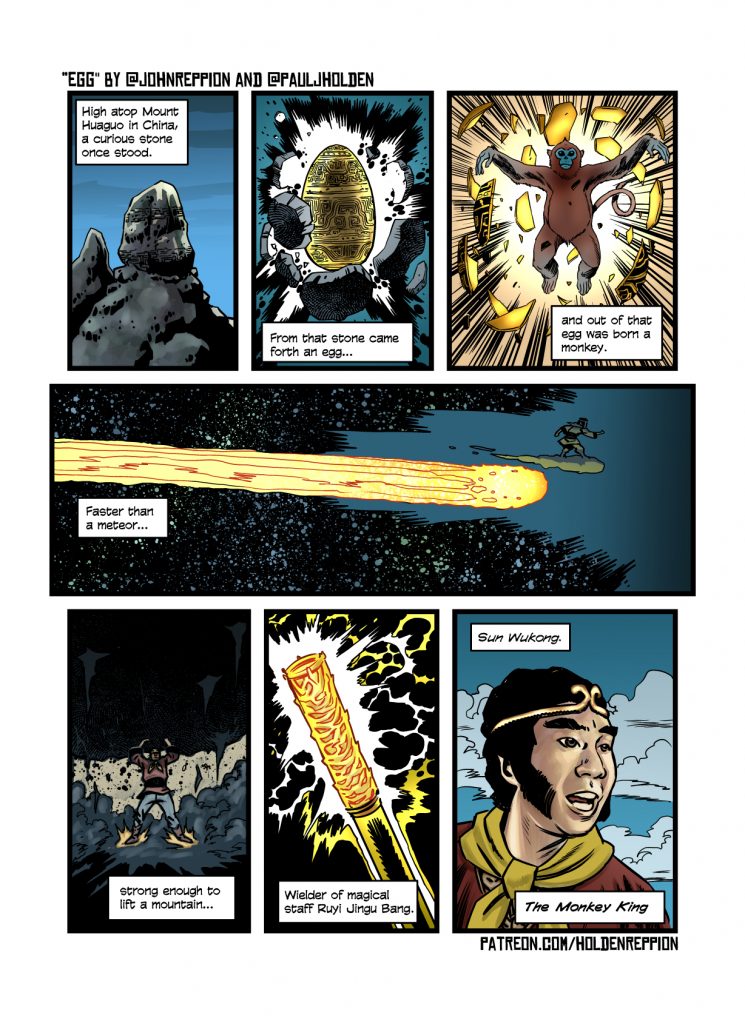 Available to buy as a print on redbubble
Originally published over at patreon.
So, while John and I aren't exactly the same age, we both grew up in Blighty and share many of the same references, and I'm pretty sure John had some notion what I'd do with this.
Monkey was an absolutely formative experience for me. I'd never seen anything like it. It hit the UK in '79 – and I was nine years old. I grabbed the nearest broom handle from the back yard and was twirling it around like Monkey Magic for hours on end.
Endless school fights.
If you've never seen Monkey (or, to give it it's original Japanese name, "Journey in to the West") it was an absolutely bonkers adaptation of the a Chinese novel written in the 16th century. And probably my first exposure to asian culture.
I had a couple of notions of how to handle this, the big choice was do I do my own version of The Monkey King or do I do the version played by Masaaki Sakai (who was impossibly charming as the boisterous, and naughty monkey)
And you know, the pleasure of doing your own stuff is you can do what you like. So Masaaki Sakai it was.
Ideally, I think, I would've like to have done this as a four colour comic book adaptation or a cover – and I designed a "The Monkey King" logo to drop on it, but I just couldn't make it work, so in the end I settled for moving some of the text around so I could end on "The Monkey King" trying to tease out the idea of what my monkey king might look like, so in the final panel reveal it's a neat little nostalgia hit.