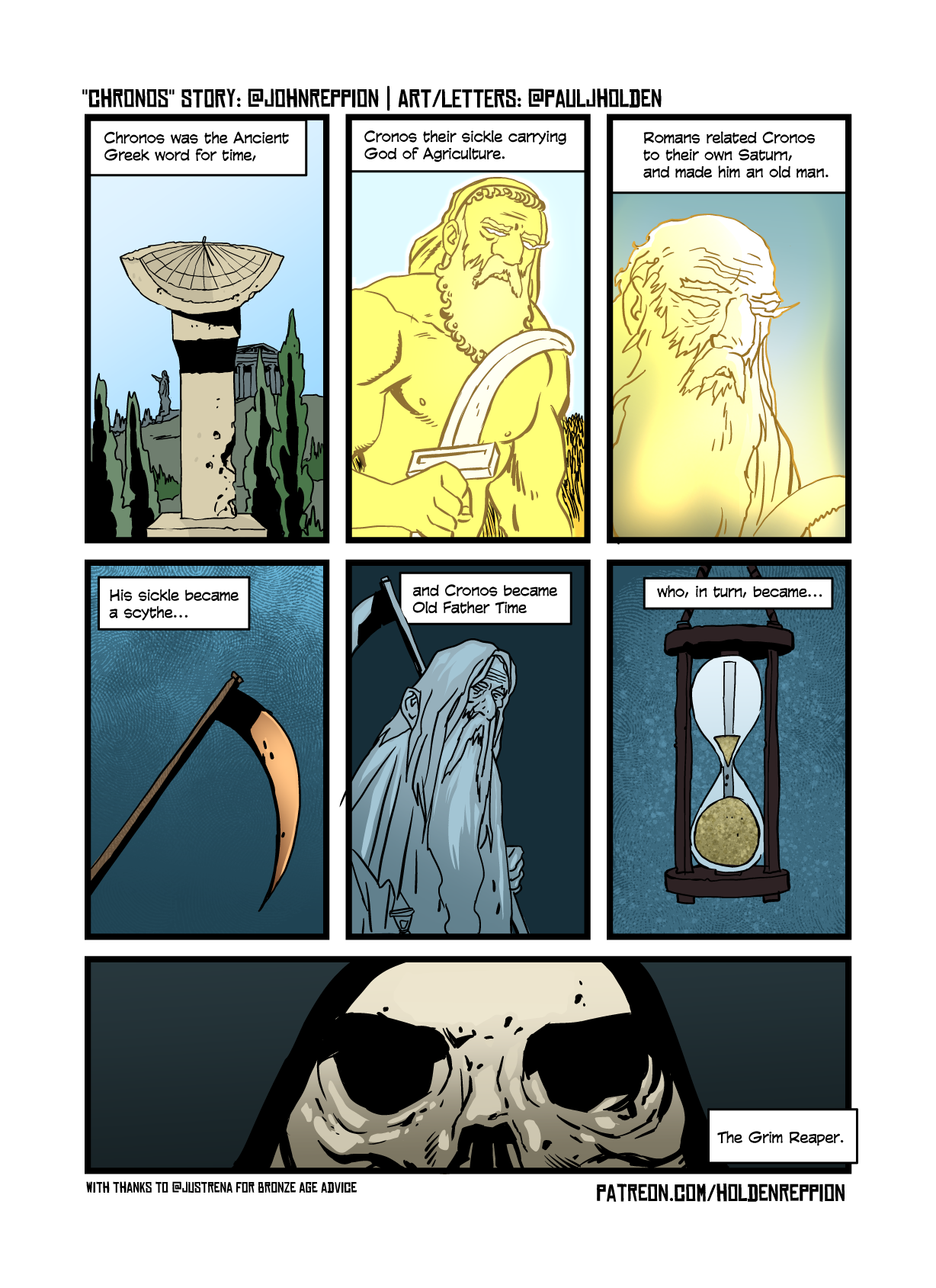 Chronos was the Ancient Greek word for time, Cronos their sickle carrying God of Agriculture. Romans related Cronos to their own Saturn, and made him an old man. His sickle became a scythe, and Cronos became Old Father Time who, in turn, became The Grim Reaper. #FolkloreThursday


John Reppion
As befitting a strip about time, my time has not been my own the past few weeks, so the resulting strip isn't quite what I wanted, but it's good enough for government work (as they say)
One thing I like doing is a little bit of research, and panel one, the first sentence was an opportunity to ask yourself some questions – like "wait, what DOES and ancient greek time keeping device look like". So I googled it and got this odd looking sundial. Now I have a new friend on twitter, Dr Rena, an archeologist and expert in this time period and she pointed out that this isn't wrong, BUT more common would've been a water timer – but I'd already drawn the damn thing, and that at least looked like a thing I'd recognise as a time keeping device, whereas the water timer just looked like two pots.
I wanted, in the strip, to get across how simple and obvious the transition from Cronos, to Saturn to Old Father Time and then the Grim Reaper. I think I did that, but it's clumsy and not at all subtle, but I am pretty happy with how that last grim reaper panel turned out.
I'm always making decisions about the rhythm of the strip, and these one pagers are interesting exercises in that. The tweet informs the panel layouts, but the panel layouts also inform how I'll handle the tweet's breakdown – in a neat little feedback loop.
I've always been interested in panel layouts, I used to keep a notebook that had a bunch of interesting panel arrangements, I've always preferred simple, straightforward reading experiences, but even with that limit (a zig zag panel layout) there's a billion ways to slice it. But some panel layouts work great at the start of a book and some work better at the end. Middle is more open, unless there's a scene transition in there.
It's a fascinating exercise to open up a favourite book and just draw out the panel layouts. (For a certain level of fascinating, that is…)
Anyway, that's your lot. Tempus fugit!